Happy Father's Day
to all the Daddy's out there!
Other: vintage seambinding ribbon
I used Tim Holtz distressed ink, Squeezed Lemonade,
to dye my ribbon, stamp my chevron background and
"water-stain" my cardstock!
While I was playing in the inky water, I decided to decorate an envelope too!
Today's card is my answer to the new question
@ the PDE challenge blog!
#24 Are you getting lots of sunshine where you live?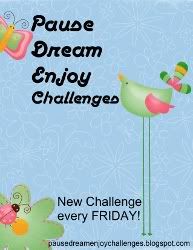 That would be a sunshinyYES!
Enjoy your Sunday!
Blessings!